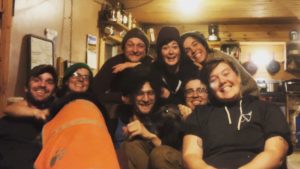 Tamarack Hollow is a rag-tag group of activist, artists, tinkerers, and thinkers. We are constantly reinventing the wheel, building a better mouse trap, and generally seeking to occupy the space between rocks and hard places. As a whole, we enjoy making good food, building beautiful things, living the struggle, long walks in the woods, big and small dogs, audio adventures through our earbuds, family, and friendships. This ship is steered by Amanda Andrews and crewed by farm veterans Kay Walsen and Will Bennington. The 2020 season would not be happening without the help of Sara Kruger, Wren Lanskey, Noah el- Naboulsi, and Tiffany Caldwell.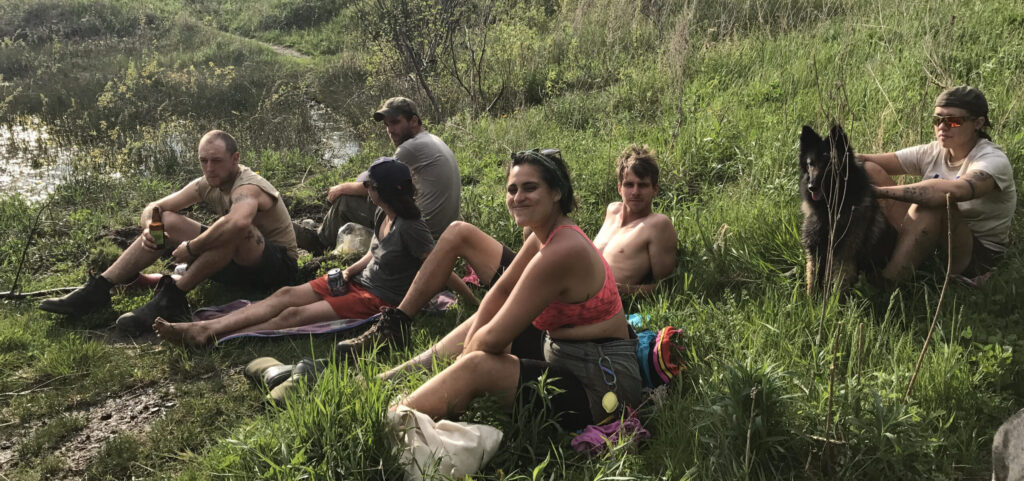 Tamarack Crew, Spring 2017. We miss you Drea, Cody, and Ben!
Farm History
Amanda moved to Vermont in 2010 to grow organic vegetables to complement an existing livestock farm with markets in Burlington and NYC. The fledgling operation faced a series of ups and downs: in 2011 Tropical Storm Irene resulted in 100% crop loss, and 2013 saw more flooding. Then in 2014, she bought higher land in Plainfield and in 2015 joined the Saturday Greenmarket in NYC.
Now the global pandemic is raising new challenges: disruption of our NYC market, food shortages due to panic buying and the closure of schools and restaurants, and housing insecurity.
For years the local market has been saturated with high quality vegetables. Since we had access to such a strong market, we have historically avoided competing with other local farms for access to local Vermont markets. We are uniquely positioned to transfer some of NYC's wealth to our community, via good wages and patronizing local businesses. With recent challenges, we feel called on to make more food easily accessible as neighbors clamor to find fresh produce and are faced with sold out CSAs and closed farmers' markets. Please read more about our CSA, a collaboration with local businesses to bring Plainfield and the surrounding community together around good food.
Throughout these challenges, the Tamarack crew has kept the farm producing, kept the markets rolling, and kept the facilities in good repair. Together we create dignified and meaningful work producing healthy, affordable food in an environmentally responsible manner.
Need to reach us? tamarackhollowfarm@gmail.com