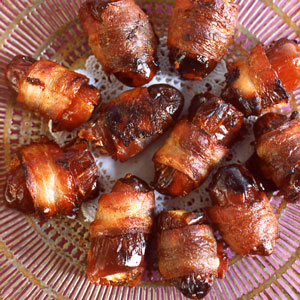 What do you do when you want to eat ethically miles from the nearest Whole Foods? You buy a couple of pigs and raise them on your own, which is what Mike and Elsa Betit did five years ago in Corinth, Vermont. Finding themselves with more meat than they could eat, they began giving away theirs and selling it to friends. Now, the farm naturally raises lamb, chickens, turkey, and geese in addition to pigs, which are sold at New York City's Greenmarkets.
Pork, made from happy, pastured pigs, is the cornerstone of Tamarack Hollow's offerings, and their succulent, home-smoked bacon is a main draw. The thick-cut bacon can make almost any dish sing, but an easy way to serve it up as an hors d'oeuvre is by wrapping it around almond-stuffed dates.
Original story on Saveur.com by Cathy Erway here.